Aerial Photography & Video
Aerial: "existing, happening, or operating in the air"
Creating an aerial image or video requires the perfect combination of timing, camera technique, and computer post-processing. There is no better way to showcase your business, event or real estate. After the image or video footage is created we can incorporate it into your website, social media (Facebook, Instagram, Twitter, etc.), and printed materials.

FAA Certified and Insured - Safety First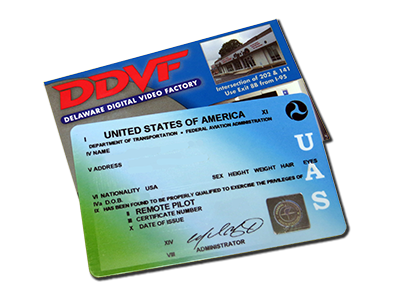 All DDVF drone flights are conducted under the Federal Aviation Administration's Small Unmanned Aircraft Regulations (14 CFR Part 107). This allows all aerial photos and videos acquired to be used for commercial purposes. The FAA defines "commercial use" as anything that furthers a business or organization. Make sure you hire a FAA Certified Remote Pilot. If you have a friend with a drone who flies as a hobbyist and volunteers to take photos of your business for use on social media, that pilot and your business might be fined by the FAA.
Part 107 certification ensures safety for those on the ground as well as any manned aircraft in the vicinity. All airspace in the United States is regulated by the FAA and drones (or small unmanned aircraft systems) are only allowed to fly in certain areas. This is very important since flying too close to an airport or other area with high volumes of manned aircraft traffic can be extremely dangerous.
Our Remote Pilot will determine if the airspace above your location allows drone flights. If you are close to an airport we can request authorization.
All DDVF drone flights adhere to the following FAA rules:
Class G Airspace (unless authorized by the FAA)
400 foot maximum altitude above ground level or height of building/structure
The Remote Pilot or Visual Observer must maintain Visual Line of Sight of the sUAS
Daylight hours (30 minutes before sunrise to 30 minutes after sunset)
No flights directly above unprotected people or moving vehicles
Clear weather (3 mile visibility)
Our sUAS Remote Pilot will make the final determination as to whether the drone flight can safely happen. All risk factors including weather, obstacles and electromagnetic interference will be evaluated and may force the flight to be rescheduled. Our Remote Pilot carries a $1 million liability policy in the unlikely event an in-flight emergency causes property damage on the ground.
Please click below to contact us about a potential drone flight. Please provide the exact location (address or GPS), type of property and desired end-product (high altitude images, roof-level images, video, etc.) so we can determine the airspace and evaluate the location for safety concerns. If a flight is possible, we will need enough room on the ground to establish a clear zone for take-off and landing. Sometimes (like if you are across the road from a major airport) a drone flight will never be legal, but we can suggest other options such as bucket trucks, lifts and/or booms that could provide similar style imagery.
Contact us for details on Aerial Photography
Sample aerial photos created by DDVF:
Sample Aerial Photo Sphere
We can also create aerial 360° degree photo spheres of your physical location to showcase on your website and/or Google Street View.

We are a Google Street View Trusted Photographer
This means we have the equipment and expertise to provide quality photographs of your physical location for Google Maps. We can do 360° photo spheres of the interior and/or exterior (including aerial 360° photos from our drone). This will help people find you on Google and learn more about your business or organization.